You can watch the below video or you can read on for step-by-step instructions.
Start by opening the box and placing everything in front of you. Slowly remove the saliva and blood collection devices. There should be one saliva collection tube and one card for collecting your blood sample. You'll also find 3 lancets, alcohol wipes, and a bandaid.
To ensure the best possible results, your saliva and blood sample must be collected between 7-9am on the same day. For the saliva collection, it's important you collect your sample within 30 mins of waking up and wait until the 19th, 20th, or 21st day after the start of your last period. If you are not menstruating, you can collect your sample on any day. Please avoid using any anti-aging or anti-wrinkle facial creams for 3 days prior to testing as these creams may contain undisclosed hormones.
Saliva collection
Step 1) It's important you do not eat, drink, or brush your teeth before providing your sample. Within 30 mins of waking up, begin by washing your hands and rinsing your mouth out with water 5 minutes before you collect your sample.
Step 2) Then allow some saliva to pool in your mouth and spit it into the tube. Keep doing this until you have filled the tube at least half full, not including bubbles. This can commonly take up to 30 mins so please be patient.
Step 3) If you are having difficulty salivating, you can try yawning, smelling some food, or pressing the tip of your tongue to the back of your teeth. Once you have filled the tube over halfway, please be sure to write your name, date, and time of the collection on the label for the tube. If you aren't able to ship your saliva sample the same day you take it, please freeze it. This will not compromise your results.
Blood collection
Step 1) You'll want to try and collect this sample within 1 hour of waking, ideally between 7-9am. When you are ready to start your collection, the first thing you should do is write your name, date of birth, and the date you are collecting your sample on the collection card. The lab needs this information to successfully process your sample.
Step 2) Next you'll want to hydrate. Drink 24-32oz of water 30 mins before you collect your sample. While hydrating, get your blood flowing with some light exercise like 45 seconds of jumping jacks or simply moving around to get your heart rate up.
Step 3) Run your fingers under the hottest water you can tolerate for 2 minutes, then shake your hands by your sides for 30 seconds.
Step 4) Pick one of your ring fingers and make sure you use the lancet just to the left or right side of the center of your fingertip – not in the center because there are more nerves there. Before using the lancet, clean your finger with the enclosed alcohol prep pad and let it air dry for 1 minute.
Step 5) Twist off the top of one of the lancets, this will activate it. Then, place your finger against a firm surface and press the lancet into the left or right side of your fingertip – gently applying pressure until you feel a click.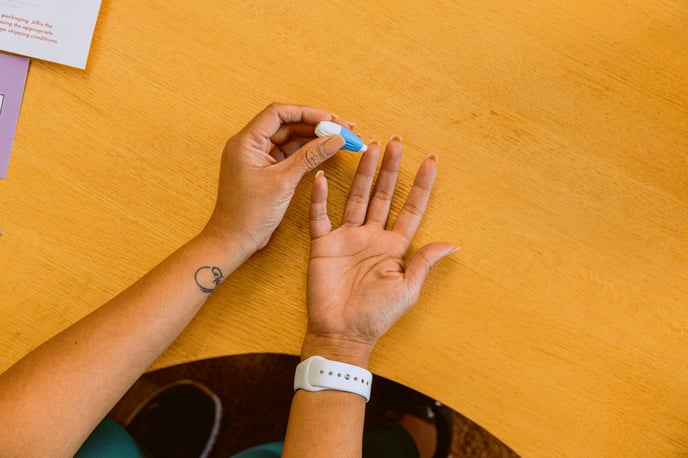 Step 6) Wipe off the first drop of blood then hold your finger over the collection card allowing blood to fall into each individual circle. Usually, it takes about 2-3 large free-falling drops to fill each circle. Make sure you don't touch or tap the card while you are doing this. If you are having a hard time getting enough blood, try standing up and holding your hand down at your side to use gravity to increase blood flow. Once you have filled all circles, place a bandaid on your finger.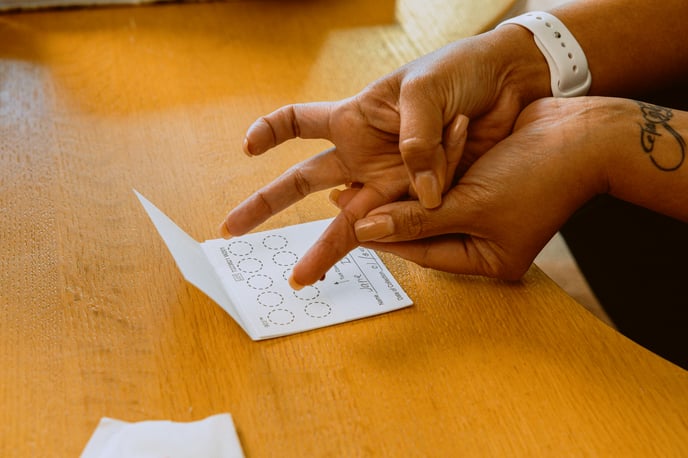 Step 6) You need to let your collection card dry completely, usually about 30-60 mins, before placing it in the biohazard bag.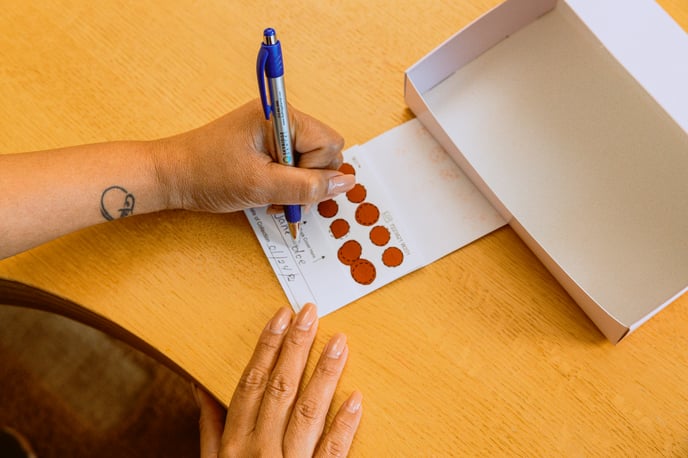 Step 7) Place the card in the biohazard bag then the biohazard bag in the original box you received. Add the saliva tube to this box as well and place the box in the prepaid shipping envelope. Please double-check which shipping carrier you need to drop your sample off to and be sure to mail your sample the same day you collect it. If you aren't able to collect both samples on the same day, you should freeze the saliva collection tube the same day you take it. The blood spot card will be stable for 5 days once dry.